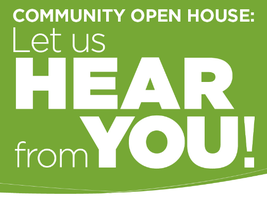 Pose your Questions for Open House about Proposed Southeast Plant and Sewer Upgrades and Win Prizes!
Ask the Experts at Community Open House on January 24
RSVP here
WHAT:
The San Francisco Public Utilities Commission is hosting a Community Open House at the SE Community Facility on Saturday, January 24. The purpose of the meeting is to discuss planning and design efforts to upgrade aging facilities at the Southeast Wastewater Treatment Plant between Jerrold and Evans Avenues and Phelps and Rankin Streets.
Project stations and informational kiosks will be open throughout the session. Morning and afternoon "Ask the Experts" workshops will provide attendees an opportunity to pose questions to the project managers and designers. Win prizes at the event by:
1) Sending in questions in advance, posted on our Facebook pagewww.facebook.com/SFWater about the new siting of the biosolids digesters facilities and watershed projects that are slated for District 10, or any other questions about the sewer system.
2) Completing the event survey after perusing stations. Entrants will be eligible to win gift certificates to local restaurants like Old Skool Café and All Good Pizza as well as other prizes such as sweatshirts and reusable water bottles.
Don't miss out!
Refreshments will be served and a children's activity table will be ongoing throughout the session.
The Sewer System Improvement Program is a multi-phased capital program to rebuild and upgrade our combined sewer system to provide a more reliable and resilient system that continues to protect public health and the environment. For more information, visit
www.sfwater.org/SSIP
.
WHO:
San Francisco Public Utilities Commission
WHEN:
Saturday, January 24th, 10:00 AM – 1:30 PM
WHERE:
Southeast Community Facility
1800 Oakdale Avenue, San Francisco CA 94124
CONTACT:
Ari Frink, SFPUC (415) 934-5713,
afrink@sfwater.org