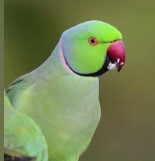 Friends in Glen Park have said they've seen wild parrots in their back yard, and according to
SFGate
, they've also been seen in Silver Terrace.
One Silver Terrace neighbor wrote via Nextdoor that a neighbor had told him that she hears and sees the parrots making their way over the hill around mid-day going towards the south and then from the south in the afternoon, between 4pm and 6pm and around mid-day going towards the south, regularly seeing about 12 birds.
Interestingly, another article also appeared on
Huffington Post
the other day talking about the many species of wild, naturalized parrots throughout California. Check out
CaliforniaFlocks
for more information on our wild parrot populations.
h/t N. Weinfeld via Nextdoor