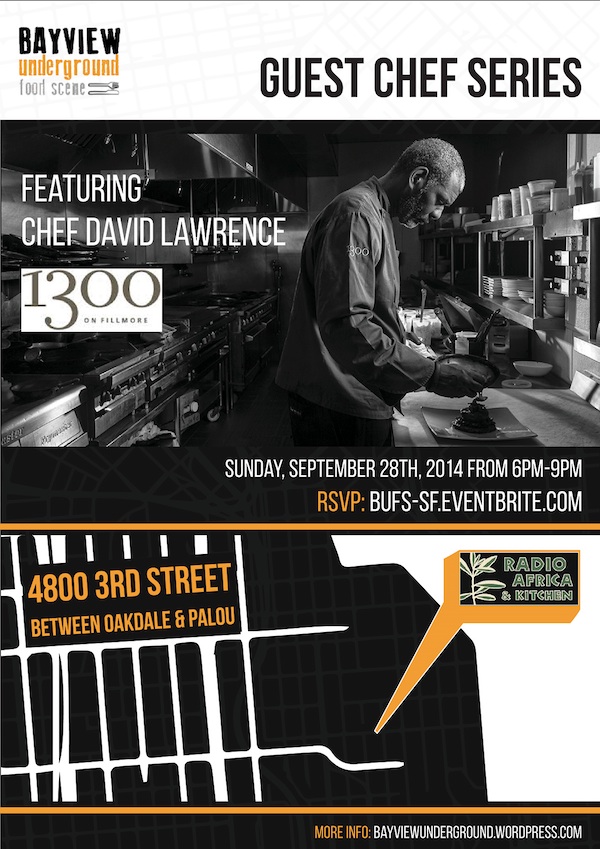 Dine out for a good cause!
Sunday September 28th
6pm-9pm
4800 Third St.
Guest Chef series featurs world renowned Chef David Lawrence of 1300 on Fillmore! Each dinner purchased will benefit San Francisco's Community Youth Center (CYC). Tickets are tax deductible.
Prix fixe Menu with Wine Pairing
$100.00 (+$6.49 fee)
Prix fixe Menu without Wine Pairing $75.00
(+$5.12 fee)
Meet and Eat! Mingle with your fellow foodies, the B.U.F.S team and local restaurateurs. The SOULFUL 3-Course
Prix fixe
menu will have a mixture of classic and exclusive "1300" dishes. There will also be live entertainment and wine pairing provided by Bayview's own Gratta Winery!
MENU
Grilled Crimson Pear Salad, Humboldt fog Goat Cheese Pomegranate Vinaigrette, Spiced Pecans
Or
Barbecue Shrimp "N" Creamy Grits
Entrees
Black Skillet Roasted Catfish, Andouille Sausage & Shrimp Jambalaya Cornbread Panzanella Salad
Or
Grilled Ribeye Steak, Local Yellow Wax and Sugar Snap Peas, Sauce Beurre Rouge
Dessert
Apple Cobbler Vanilla Bean Ice Cream
About CYC:
Founded in 1970, the mission of Community Youth Center of San Francisco (CYC) is "to empower and strengthen high-need youth and their families by providing comprehensive youth development through education, employment training, advocacy, and other support services."
About BUFS:
The Bayview Underground Food Scene produces, promotes and advocates curated, fun food and beverage activities in San Francisco's Bayview district as a community building strategy. BUFS was conceived in 2012 and has since hosted several events. BUFS has hosted several events including the Bayview Underground Community Market, a bi-weekly pop-up market that features local micro businesses and fosters community engagement and support of locally 'grown' services, products and food.
About Andrea Baker Consulting:
Andrea engages community stakeholders, facilitating visioning and planning discussions throughout various phases of business and community development. She develops and implements neighborhood revitalization, economic development, and business strategies that encourage and build dynamic and vibrant commercial corridors in emerging neighborhoods. Moreover, she is particularly adept at identifying innovative and unique business concepts and operators to comprise the programming of mixed-use ground floor commercial spaces.